Empower and Revitalize Japan for Next Generation
Enjoy our initiatives and ideas that embody SOPHOLA's Vision, Mission and Values.
We will update our employees' daily lives and thoughts so that you can understand the SOPHOLA culture.
Happy 4 Year-Anniversary
Today, 4 years has passed since our business started and is successfully celebrating its fifth year! It is thanks to many domestic and international partners, end-clients, and other supporters, as well as my family, that an inexperienced person like me was able to start and run a company in Nagano Prefecture without any connections for four years. I would like to take this opportunity to express my sincere gratitude. Thank you so much!
As this will be a memorable day, I hope to look back on the past four years and detail my thoughts and feelings for the fifth year. (My comment on the About Us page has also been updated, so please take a moment to read it as well!) In doing so, please also take a look at the graph below to see what kind of growth curve our company and myself have been on.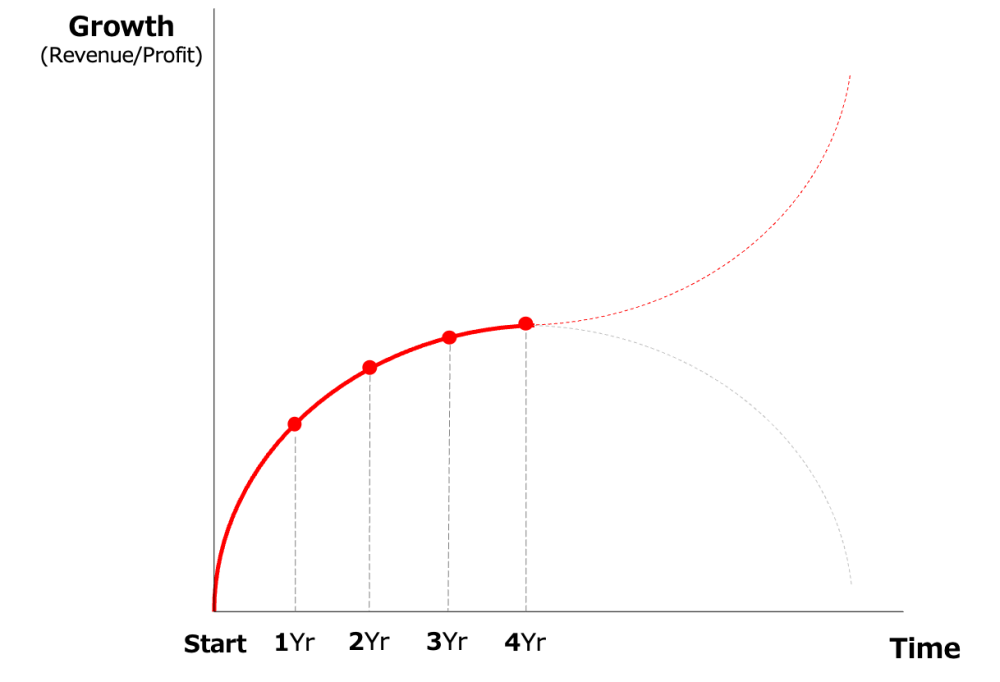 I think the first year can be summed up in the expression "rapid growth through partnerships with Adflex and AdScale", when Adfex' main service strengths at the time of 2018 were the strong manual optimization process of the Yahoo! Display Network and video landing pages. After becoming a Technology Fellow for Adflex and signing an exclusive strategic partnership agreement with AdScale from Israel in August 2018, I helped Adflex replace major ad agencies for a series of Google/Yahoo! Japan ads accounts from mega-banks and major online retailers. As a result, we were able to increase the company's PPC ad spend by a factor of 62 in 18 months. It was a year in which we were able to quickly create a stable sales foundation for the company.
The second year was one in which we chose a growth strategy of "aiming to expand our service and client base". While our sales grew rapidly through partnerships with Adflex and AdScale, we decided to build the second and third pillars of sales. Longtail UX, an Australian company, had distinctive strengths which we could not find in Japan, so we were able to start working with companies such as Asoview and Kewpie, which continues to this day, by bringing their tools to us. At the same time, we also started supporting international companies to expand their business in Japan, and we took on the challenge of working with them.
In the third year, I took on the challenge of "aiming to expand the organization despite the Covid-19 situation." As we entered the disaster in April 2020, we significantly increased the number of employees from 2 to 5 (who quit during the trial period) and conducted sales activities on a daily basis to further strengthen our second and third pillars. In the midst of all this, due in part to the disaster, our partnership with Adflex was to be terminated in the fourth year, and I was battling daily with impatience and anxiety. In addition, one of the founding members of the company continued to be required to play a generalist role, and after a series of interviews with him, he decided to leave the company. This was a year in which some shadow began to cast over our growth curve.
In the fourth year, we focused on "rebuilding our service and client base." Half of the year was over while I was suffering from a number of injustices that I cannot write about here, and I was in a state of mistrust and complete self-doubt…. With the encouragement of senior entrepreneurs and mentors, I was able to come back to life and rebuild my service and customer base from scratch in the second half of the year, both as a company and as a CEO. We are now steadily rebuilding through new products such as PPC Protect from the UK and m19 from France, as well as new seeds sown in the third and fourth years, such as the development of western Japan.
Today, we have served over 300 clients and helped over 17 global technology companies from 12 countries enter the market. In our fifth year, we will focus on our trusted global tech partners, AdScale, PPC Protect, and m19, while also resuming support for global companies entering the Japanese market, and aim to "rebuild a stable sales base." We are looking forward to working with you to achieve this goal. At the same time, I would like to challenge the global MBA program for self-improvement and further deepen my learning as an entrepreneur and CEO. Thank you again for your continued support.
Masaki "Mark" Iino
Founder & CEO
SOPHOLA, Inc