Empower and Revitalize Japan for Next Generation
Enjoy our initiatives and ideas that embody SOPHOLA's Vision, Mission and Values.
We will update our employees' daily lives and thoughts so that you can understand the SOPHOLA culture.
[Marketing] The benefits of using a platform that already has various integration features
When you manage an e-commerce site, you need to handle a variety of tasks related to website management. And in a diverse range of jobs, including site creation and ordering more than promotion and marketing. Customer service is a higher priority. As a result, promotion and marketing tend to take a relatively back seat. Particularly when it comes to promotion and marketing, we have to create new product data and create a web Additional man-hours and training are required to measure the user actions of There are many times when you are forced to respond. These are often the major factors that cause promotion and marketing to take a back seat.
<Example of EC site management>
– Product planning/development
– EC site creation/modification/change
– Inventory management
– Promotion/Marketing
– Order/shipping/delivery management
– inventory control
– Customer Service
However, in some cases, the tools for creating an EC site may be introduced in order to easily advance various promotions and marketing as well as EC site management. So, if you determine the platform of your e-commerce site well, you will be able to promote and You can cut down on the number of man-hours spent on marketing. Today, we're going to talk about Shopify, an international online store creation tool, and a domestic online store creation tool. We'd like to show you how Base can help you take advantage of your marketing efforts.
<Shopify (https://www.shopify.jp/)>
An e-commerce website creation platform based in Canada. More than 1 million online stores in 175 countries around the world are operated by Shopify. It works with Google Ads and Facebook ad accounts and Google Integration with measurement tools such as Google Analytics can be easily implemented. And also the management of an e-commerce site is not limited to You can implement promotions and marketing initiatives at a low cost without the need for.
– App management Screen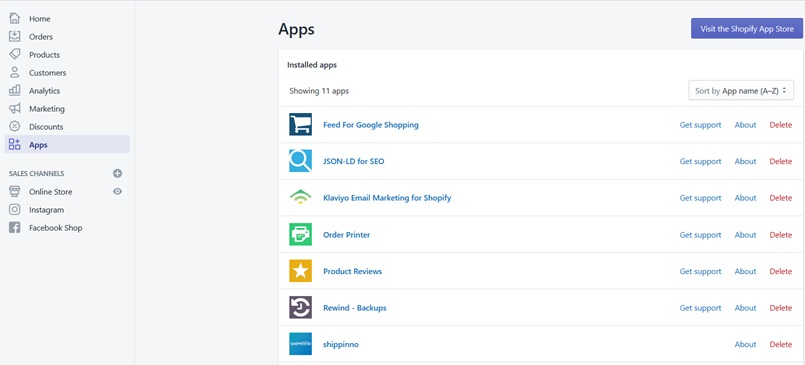 – Site management
1. BEST Currency Converter: https://apps. shopify.com/doubly-currency-converter
An app that displays the prices of products in stores in multiple currencies. The free plan allows you to use up to 5 currencies, which you can't miss if you're doing cross-border e-commerce.
2. Shippino: https://www.shippinno.net/
An app that allows you to collaborate almost automatically from order placement to order processing/shipping in the store.
3. Product Reviews: https://apps.shopify.com/ product-reviews
An app that allows you to add a review feature to your online store. Get reviews from your customers and make your store more exciting.
– Advertising
1. Feed for Google Shopping: https://apps.shopify.com/google-shopping-feed?locale=ja
An application that can automatically create data for Facebook catalogs and Google Merchant Center, from Shopify. A feature you can't afford to miss if you're running an advertising campaign.
2. Default features
Tagging integration with Google Ads and Google Analytics. You can integrate with Google Ads and Google Analytics by default.
https://help.shopify.com/ja/manual/reports-and-analytics/google-analytics/google-analytics-setup
<Base (https://thebase.in/)>
Base is a Japan-based e-commerce website creation platform. More than one million online shops are opened and operated on Base in Japan. Google The integration with Ads and Facebook ad accounts is not strong. But the Japanese language support is so good. Promotion such as Blog linkage and Twitter promotion can be implement your marketing initiatives at low cost.
– App management screen


– Site management
1. Blog : https://apps.thebase.in/detail/43
You can easily create and publish a blog that is effective in increasing the sales of your online store. You can also increase repeat business by continuously contacting your customers through your blog.
2. SEO settings: https://apps.thebase.in/detail/4
Brief SEO Settings App. You can add keywords and descriptions to your shop's top page, shop description (About page), and each product page.
– Advertising
1. Twitter Ad "Auto promotion": https://apps.thebase.in/detail/70
A subscription-based Twitter ad that doesn't require management. The app handles all the details of campaign settings, submission work, and ongoing management during delivery.
Shopify is strong in terms of the number of apps and external marketing tools it can integrate with. But the domestic EC site creation platform in Japan is not so strong. On the other hand, the domestic EC site creation platforms in Japan support Japanese and they can keep maintaining their market share. If you're thinking of expanding your e-commerce site outside of Japan through cross-border e-commerce, you can find out more about promotion/ Ecommerce sites with more collaborative features. Because more time is spent on marketing in the future. The more function platforms you use, the better off you will be later on.
We have AdScale e-commerce called, Shopify/Magento/ If you have an account such as woo-commerce, it's almost automatic and you can use Google Ads and We have a service that allows you to place ads on Facebook/Instagram. Choosing an e-commerce website creation platform that works with these tools is also a good idea later on. It will help your promotion/marketing run smoothly. You are about to create an e-commerce site or you are thinking about revamping your existing e-commerce site. If you're looking for a platform for your business, please consider medium to long-term promotion/marketing before choosing one. Try it out at.
*If you're already using Shopify or other services and are interested in AdScale e-commerce Please contact us for more information.
SOPHOLA Inc.
Kenta