Empower and Revitalize Japan for Next Generation
Stay tuned by taking a look at our business updates. Moreover, there will be some useful information for you.
m19|New Released Features of m19 in 2023
We will be adding the features released in 2023 to this page as they become available. Whether you are still considering or have already started using our services, we hope this information will be of help to you in your consideration or use of our services!
1. Boost function per strategy for any period of time

Boost function can now be set for any time period.
Previously, boosting was only available for big sales such as Prime day and Black Friday, but this feature allows sellers to boost for any period of their own choosing (e.g., special sales). Boost is automatically set to ON at midnight on the first day of the sale and OFF at midnight on the last day of the sale.
*Enabling the boost will increase (or decrease) the target ACOS of the strategy. The user can define the magnitude of the increase and it will automatically return to the initial target ACOS value when Prime Day or Black Friday ends.

2.Agency dashboard function (β version)
We have released a dashboard function (beta version) for agents to easily manage multiple seller accounts and analyze numerical results.
・Aggregate results for all accounts
・Indicator values for each account/marketplace
(Period specification and indicator selection can also be done in the same way as per account)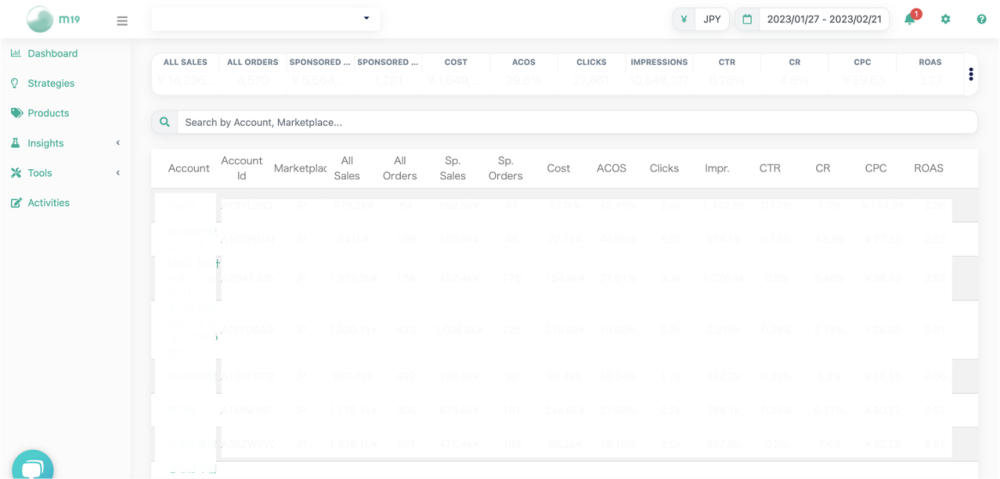 3."Top of Search Rankings Optimizer," an automatic bid adjustment function that takes SEO into account
It is possible to automatically optimize keyword bids based on the natural search rankings of a product (ASIN). For example, the algorithm will work so that products (ASIN) that are ranked high in natural search for a certain keyword will not be displayed at the top of sponsored ads, and other products (ASIN) will be displayed at the top of sponsored ads.
To apply this function, turn ON "TOP of Search Ranking Optimizer" for the relevant keyword. (Only for exact match keywords)

4.Keyword Tracker
Keyword Tracker enables you to grasp the "Search Frequency Rank (search frequency rate within Amazon)" of any keyword and the listing position of your products (natural search and paid search, respectively).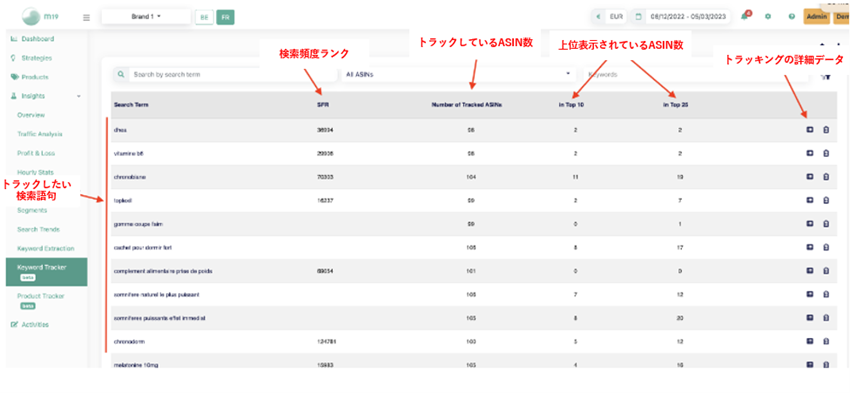 In addition, detailed information such as listing rank by product (ASIN) will also be available.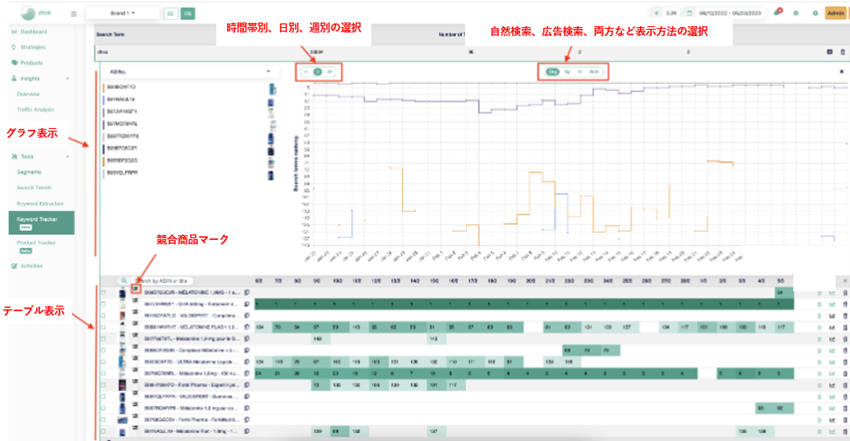 For example, if there is a product (ASIN) that you want to focus on, you can track its placement by displaying only the relevant ASIN.

5."Product Tracker"
A list of Amazon product page information, including not only the company's own products but also competitors' products, is automatically generated and can be checked.
Displayed items: brand, main/sub category, best search rank for main/sub category, price, review score, number of reviews
Since you can easily compare your products with competitors' products, you can clarify the strengths/weaknesses of your products and implement countermeasures accordingly.

Also, by clicking on the product (ASIN), you can check the listing rankings for any keyword and the respective display items in chronological order.
(Trends in listing rankings for arbitrary keywords)

(Transition by item)

6.Checking the history of product page changes
Only for your own products, it is possible to check the history of changes to the product page for each product (ASIN). For example, changes to photos and prices, changes to review scores, changes to child ASINs within the parent ASIN, etc. The number/rate of clicks, sales, etc. after changes can be checked in graphs, making it easy to verify the effectiveness of changes.